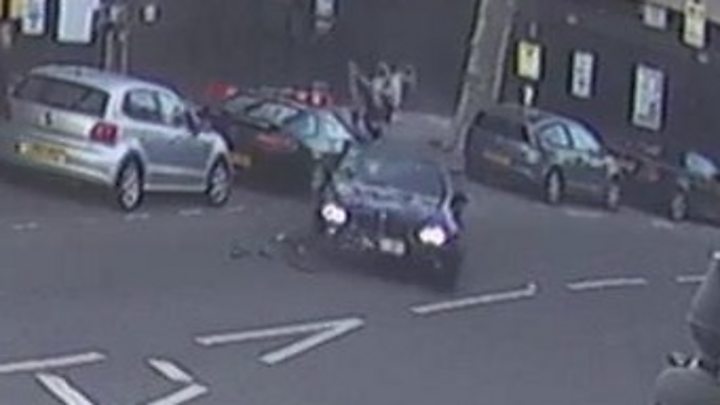 A cyclist who was thrown off his bike in a hit-and-run crash in London said he was "disappointed" with police officers' attempts to find the driver.
Medical student Josh Dey was left with a bleed on the brain when the black BMW hit him on Swain's Lane in Highgate.
Mr Dey said he retrieved CCTV footage of the crash from a nearby restaurant after officers told him they would not be able to get it for several days.
The Met said inquiries were ongoing and so far no arrests had been made.
The 22-year-old University College London student had cycled to Hampstead Heath on 21 April.
He was on his way back to his home in Archway at about 18:45 BST when a black convertible BMW veered on to the wrong side of the road and sent him flying into the air.
As well as the bleed on the brain, Mr Dey suffered ligament damage to his right knee, a badly broken nose and a broken toe.
"I woke up in hospital and had no idea what was going on," he said.
Mr Dey said he asked the restaurant for its CCTV footage when police told him they would not be able to go to the venue for several days – by which time he feared any footage might be deleted.
The Met said it was grateful for Mr Dey's help in sending them the video and officers had sent a form to the registered owner of the BMW to ask who was driving at the time.
The owner will be summoned to court if they fail to return the form within 33 days, the force said.
Mr Dey said: "I do feel disappointed with the police investigation… I thought they would at least go to the person's household and take some further action."
'Quite callous'
Mr Dey said it was "difficult" to watch the moment of the crash.
"It's constantly replaying in my head," he said.
"I felt angry, and really sad. Why would someone do this to me?
"It seems quite callous – if you look at the video, they show no remorse.
"They do not even look back."
Officers are collating witness statements and reviewing CCTV footage, the Met said.
Mr Dey hopes to recover in time to take his medical exams in July and August.
boiler installations chelsea

Source link